Restoring Water Damage To Your Santa Ana Hardwood Floors
8/9/2018 (Permalink)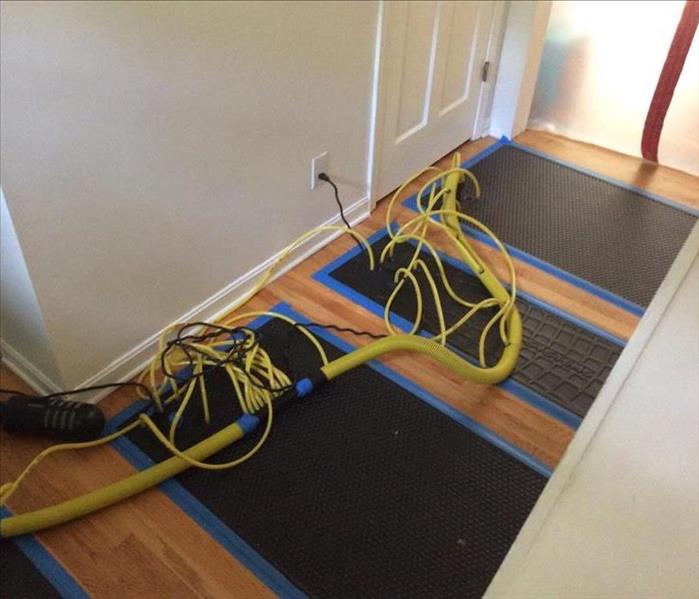 We employ a number of advanced dying systems which can make your water damaged hardwood floors look "Like it never even happened."
SERVPRO Can Restore Your Santa Ana Hardwood Floors From Water Damage
When water damages your Santa Ana house, you must get help to remove the water and dry the building out as soon as possible. If the water remains soaked into the building materials, they deteriorate quickly. Our technicians can help remove the water and dry the structure of your house before permanent damage happens.

You are proud of the hardwood floors in your Santa Ana home, but water damage threatens to ruin them. Water that overflows out of a sink or tub or drips from leaky pipes moves to the lowest part of a room or space. Floors absorb the moisture and can show severe damage if you do not act fast. We have ways to restore the damage if you call us immediately.

Hardwood floors can recover from water damage better than softer wood because of their density. They do not absorb water easily, so SERVPRO employees have the chance to restore them if we are on the job quickly. Our crew first removes puddles of water with pumps or extractors. We then bring in air movers, heaters, and dehumidifiers to begin the drying process.

SERVPRO technicians measure the moisture levels in the air and the wood with special probes. We use dehumidifiers to bring the air humidity down to 30 to 45 percent. This helps dry the wooden floors because the water in the wood can move into the air. The air movers aim warmer air at the wet wood, forcing the water to move into the dryer air as vapor. The dehumidifiers capture the water vapor, and the cycle continues.

We can help the drying process by using air movers both above and below the wooden flooring. Sometimes SERVPRO pulls up a few boards to let the warm air blow underneath. We also have drying mats that we place directly on the wet floor. The mats use warm air to pull the water in the floor through tubes like a straw. The mats help when a subfloor under the hardwood is also wet. If the water does not leave both floor levels, it can warp.
Locally Owned Company with National Resources

SERVPRO of Santa Ana South has the tools, products, and trained technicians to fix water damage problems in your home. Call (714) 558-7772 to schedule an inspection as soon as possible.
For more on Santa Ana, click here.