Help for Water Damaged Visitor Attractions in Santa Ana
8/14/2018 (Permalink)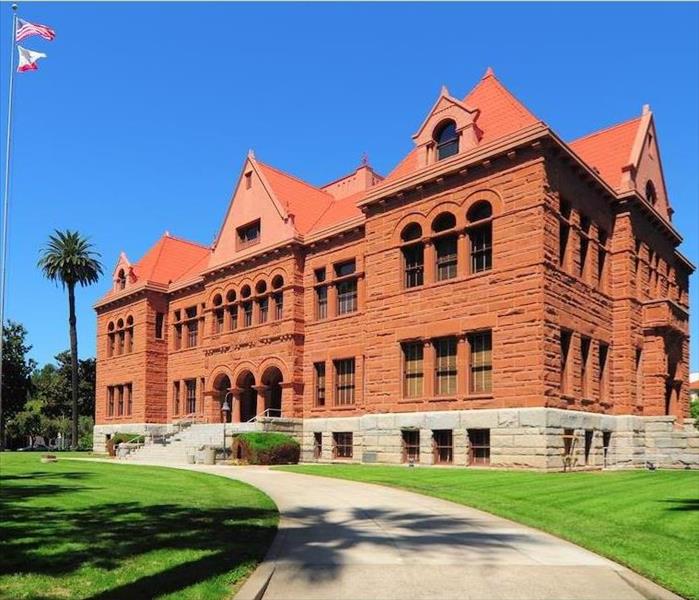 If the Old Courthouse Museum or other museum in Santa Ana suffers from a water damage event, the best recourse is to contact SERVPRO.
Team SERVPRO Arrives on the Scene With BOTH the Certified Technicians and the Equipment to Dry Out Your Water Damaged Attraction
Santa Ana is home to a wide range of museums and historic buildings maintained for the education and delight of visitors and the pride of local residents. When water harms one of these institutions, the entire community loses an essential dimension of what the city represents. Our team of disaster restoration specialists awaits your call for assistance.

Older homes repurposed as museums and learning centers make the visitor's experience unique. Commercial water damage in Santa Ana to these local treasures is not only a loss to the owner but also to the community. Because the public visits these buildings, the reputation of the city as an exciting and desired destination depends on how accessible and inviting the attractions are. The crews we dispatch understand you need a speedy resolution to water damage, preferably completed with as minor a disruption to the operation of the venue as possible.

Resist the temptation to wait until a slow season to complete a full water removal and structural drying process. SERVPRO can devise a plan that respects your need to keep as much of the attraction in operation as possible during restoration. Waiting risks secondary damage, including mold growth and continuing deterioration of the structural components. For example, if carpeting does not receive thorough in-place drying, including the padding and subfloor, the carpet repeatedly saturates again, revisiting the water damage scenario.

We arrive ready to assess and restore, fully stocked with multiple pumps, extractors on our green SERVPRO service vehicles. Our IICRC trained technicians immediately implement the plan designed by our experienced crew chief. A fundamental task is moisture metering and monitoring, combined with infrared scanning that reveals hidden caches of water. As water removal proceeds, the drying goals for various areas of the establishment are established based on the initial moisture levels recorded for the building materials.

Air movers, heaters, and dehumidifiers move in to reduce the moisture content fast. SERVPRO technicians position the equipment to achieve the most efficacious results, seeking a balance of drier air, movement, and temperature to move liquid water out of materials into the air as vapor. The vapor is then condensed or absorbed for removal. We evaluate the situation with an eye to creating smaller drying chambers constructed with vapor barriers like heavy duty plastic sheeting. Drying proceeds faster, and unaffected or previously dried spaces are available for routine business purposes.

Finding a reliable professional commercial disaster company is crucial to preserving and protecting historic buildings and museums. SERVPRO of Santa Ana South has the expertise and the equipment to make it happen. Call (714) 558-7772 to set up an assessment.

Click here for more information on the city of in Santa Ana.