Why Drying Out Your Water Damaged Santa Ana Hotel Always Helps Mold Prevention Efforts
9/30/2018 (Permalink)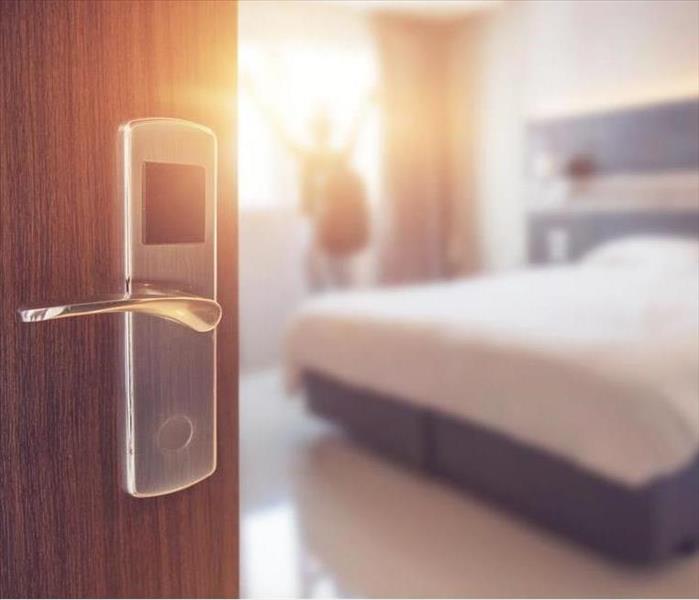 Having dry, great smelling rooms is key to having satisfied travelers recommend your hotel. Contact SERVPRO for remediation.
Fast Professional Water Removal Services For Your Santa Ana Hotel
You want to offer all the amenities possible for the guests enjoying your Santa Ana hotel. The pools, hot tubs, and laundry services are very much appreciated until negligence or a plumbing fail sends water flowing where it is not expected or wanted. You need a speedy and competent response from our technicians and equipment to turn a hotel water catastrophe around.

Miles of pipes make a luxurious hotel experience possible within your guest accommodations. Water removal in Santa Ana becomes necessary when a jacuzzi overflows or a pipe breaks in the hotel laundry area. If you hire a water removal firm with IICRC trained technicians and the latest in extraction equipment your guest might not even notice the catastrophe occurred.

SERVPRO arrives at every commercial water removal project with multiple submersible pumps and truck-mounted water extractors onboard our service vehicles. Stocking the necessary equipment means no delay between the assessment by our crew chief and the commencement of water removal services. Another benefit of our fully-outfitted green trucks is the availability of power generation independent of your hotel's grid in the event the water loss requires a temporary cessation in electrical service for safety purposes.

Our team of experts addresses a wide range of water removal challenges with a comprehensive set of remediation strategies. If wall to wall carpeting suffers damage, the SERVPRO crew uses restoration industry best practices to remove the moisture in place. We often chose to remove and replace wet padding in these cases as an inexpensive and practical approach. Weighted water extractors move across the carpeting in a deliberate and systematic pattern to pull as much water out of the fibers as possible.

We measure moisture levels with sophisticated instruments, setting a baseline for drying goals. Thermal imaging locates any hidden water in recesses or cavities. It is vital that all water exits as the damage it causes is progressive and secondary issues such as microbial growth becomes more likely with every passing day that moisture remains. Once we find, release, and remove all standing water, our skilled crew members position air movers, heaters, and dehumidifiers to accelerate the evaporation of lingering moisture.

SERVPRO of Santa Ana South has skilled technicians and is well-stocked with state of the art water removal equipment. When a water removal disaster strikes, make sure to call us at (714) 558-7772 to schedule an assessment and begin the extraction process.

Click here for more information on the city of Santa Ana.