Let SERVPRO Calm The Chaos In Your Santa Ana Home
3/7/2019 (Permalink)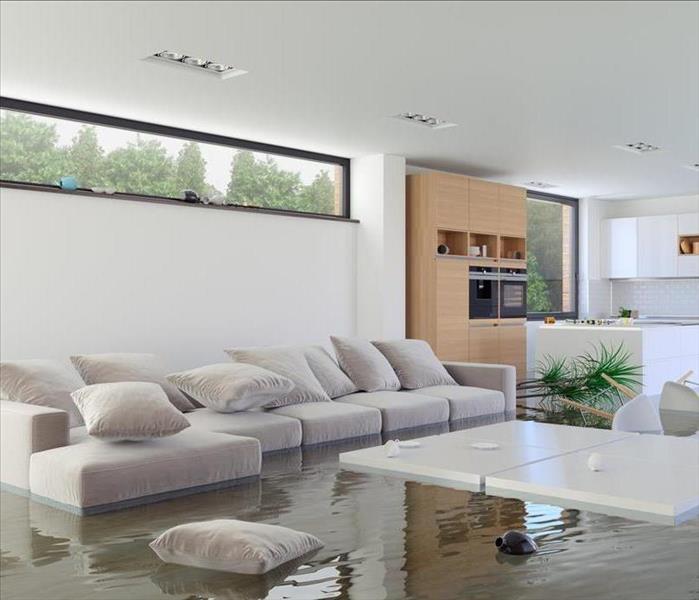 We will restore your home after you experience flood damage so you and your belongings will be safe. Call us 24/7 we are here to help you.
Time is of the Essence When There is Flood Damage to Your Home in Santa Ana
Natural disasters such as floods are fraught with chaos and uncertainty of what is to come. Even when there is warning of what might occur, the reality is often worse than you could imagine and quick action is crucial. When a whole community is affected by the disaster, the crisis escalates and protecting your home is even more difficult. Knowing who to call in case of an emergency is your first line of defense.

If there is flood damage to your home in Santa Ana, do not hesitate to call SERVPRO. Our response team is available 24/7, so it can promptly react to your emergency and begin the restoration process. Even though extracting water is a top priority, so is preventing any subsequent damage, such as mold or a weakened structure. Our certified technicians can help tackle immediate needs as well as anticipate future complications.
Of immediate concern when there is flooding, is addressing the contamination coming from black water. Any organisms living in those waters must be quickly eradicated from your home. Porous materials such as upholstery and carpeting are removed, which helps control any unwanted spread of bacteria as well as speed up the drying process. Our SERVPRO team is trained to know how to handle these materials safely and efficiently.
Aside from extracting water from your home, our Green Fleet also concentrates on disinfecting any surfaces such as tile and grout. We use material-specific substances to remove harmful bacteria and work with you to coordinate with any contractors that need to perform further repairs. As we move through your home, we work to prevent problems such as mold which is a by-product of excess moisture.
Our team has the training and expertise to assess the extent of the damage to your property, even those issues that have yet come to light. This evaluation can prove invaluable when you address the event with your insurance company, and we are happy to provide any information you might need to file a complete and accurate claim.
When your Santa Ana home is the victim of flood damage do not hesitate to call SERVPRO of Santa Ana South at (714) 558-7772 for help. The quicker you enlist our help, the faster we can leave your home "Like it never even happened."
For a complete list of programs and activities in your area click here.