Santa Ana Property Owners Rely on SERVPRO for Profestional Cleanup and Restoration Services
7/8/2019 (Permalink)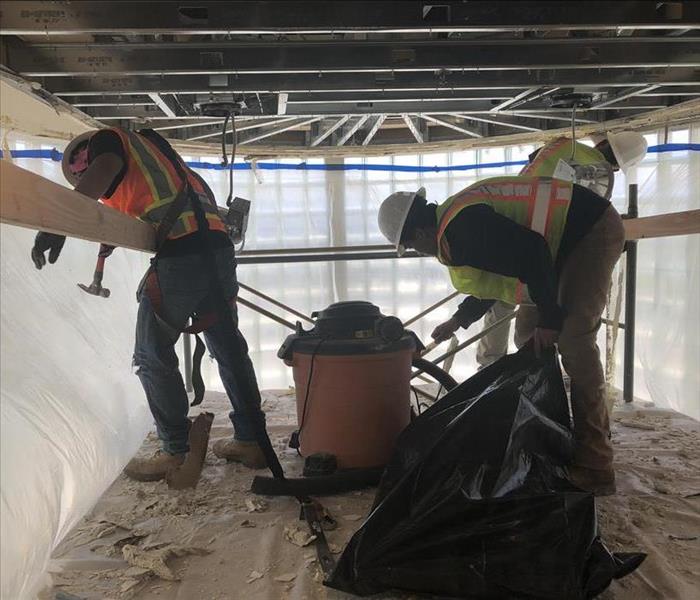 Serious Restoration and Rebuild Needed for Your Santa Ana Property after Fire, Mold, Water, or Storm Damage? SERVPRO Is There!
Restoration Services Our SERVPRO of Santa Ana South Team Offers
While we can appreciate much of the sunny climates and favorable weather conditions year-round in Santa Ana and its surrounding regions, there are also ever-present risks that homeowners and business management must remain prepared to face. As trying as disasters and emergencies can be for your property, these are also areas of expertise for our experienced SERVPRO professionals. We can address the consequences of devastating water, fire, mold, and storm loss incidents to your home and help you to make these situations "Like it never even happened."

Water Damage
Water damage in Santa Ana homes is among the most common of requests that our team responds to each day. From appliance failures to plumbing breaches, we have spent years working to become a trusted name in the area for a fast turnaround and quality production overcoming the effects and harm of these situations. We are a wise choice for recovery due to our extensive experience, training, and growing deep inventory of mitigation and restoration equipment to improve efficiency for our projects.

We know that many homeowners do not have coverage options for water damage for their properties, and that makes the approaches, equipment, and personnel we choose vital to our customers. Every decision affects the length of the project and its ultimate cost, so we work with property owners to establish budgetary limitations and offer services that are affordable and helpful during a crisis. Our ability to provide a fast and confident response 24 hours a day also helps our customers and has been instrumental in our multi-award-winning presence in Santa Ana.

Our success with water cleanup and recovery efforts for thousands of homes that depend on us throughout the Greater Santa Ana area begins with our training and equipment. We have advanced tools for fast extraction, drying, and cleaning of all affected surfaces and areas of a property, helping us to overcome all obstacles in restoring your property successfully. We're Faster To Any Size Disaster, and we are always there quickly when you need us.

Fire Damage
Along with our water restoration, fire damage in Santa Ana is a cornerstone of the work that we do. We have the most technicians and recovery specialists accredited in different facets of these niches of the industry than any other. This training and experience help us to be a trusted and respected name for fire emergencies that range from structural fires in your house to overcome the often widespread effects of wildfires that can destroy homes and businesses in our slice of California. Through training and courses offered with the Institute of Inspection, Cleaning and Restoration Certification (IICRC), we have technicians accredited as:

• Fire & Smoke Technicians (FSRT)
• Odor Control Technicians (OCT)
• Upholstery & Fabric Cleaning Technicians (UFT)
• Carpet Cleaning Technicians (CCT)

Each of these skilled positions is vital in the fire recovery process, that begins with the initial call to our SERVPRO office. From the time that our professionals arrive at your home, we have boots on the ground quickly to perform a thorough inspection and fire damage assessment to begin formulating a successful plan that returns your Santa Ana home to preloss condition. Our restoration services are comprehensive, allowing us to be a one-stop shop for every phase of recovery your property requires. With a well-educated content management division, we can restore marred possessions from your property at our facility as well while cleaning continues in the house.

We have sophisticated equipment to address smoke, soot, odors, and airborne threats present after a fire loss gets extinguished. By running these machines throughout the mitigation and even reconstruction phases of the restoration, our technicians can help to limit the time and money put into recovering your Santa Ana home.

Storm Damage
As a full-service SERVPRO team, we can offer our customers a genuinely comprehensive recovery experience from the initial mitigation of their property through full rebuilds and reconstruction efforts. With torrential storm systems that can pass through all of Orange County off of the Pacific Ocean, having a fast disaster relief response can save our customers money and time on the restoration their storm-damaged Santa Ana home requires.

Our temporary construction solutions and full rebuilding services get overseen by our owner Tom Puorro, who has a General Contractors B License through the state. A confident approach in efforts like tree removal, portable power, board up, tarping, and other emergency services can reduce the severity of flooding conditions inside the Santa Ana property.

Storm damage often precedes widespread flood effects, and with the right response to the situation, our SERVPRO technicians can quickly extract standing water and begin drying and cleaning efforts right away. Storms, wildfires, and other natural disasters can affect your Santa Ana home, but our disaster relief division can help.

Mold Damage
We have always sought to stress the importance of remediation for mold damage in Santa Ana properties versus the fallacies of statements like mold removal. Removing mold entirely from your home or business is impossible, as spores exist naturally in nearly every environment. With moisture conditions that can facilitate colonization in as little as two days, you need to secure our IICRC-Certified Applied Microbial Remediation Technicians (AMRT.)

As you might expect, our remediation efforts are not practical without first addressing moisture and dampness concerns in the Santa Ana property. We utilize air movers, desiccant and low grain refrigerant (LGR) dehumidifiers, and other specialized equipment to dry out damaged materials and areas of the house thoroughly. We can check the success of our efforts with moisture content readers, ensuring relative humidity is below 45 percent, before moving on to address the mold damage.

If you suspect mold damage in your home because of smells or heightened allergens and irritants, our SERVPRO team offers full and thorough inspections of the property to validate this growth and work quickly to address it completely. With how quickly these scenarios can get out of control in Santa Ana homes, it is wise to get help right away.

We strive to provide our customers with a one-stop approach for restoration services. You can count on us whenever disaster strikes, and we can make the effects "Like it never even happened." Give our SERVPRO of Santa Ana South team a call today at (714) 558-7772.
The infamous Santa Ana Winds.