Should I Remain in my Santa Ana Home During the Flood Damage Restoration Process?
10/8/2019 (Permalink)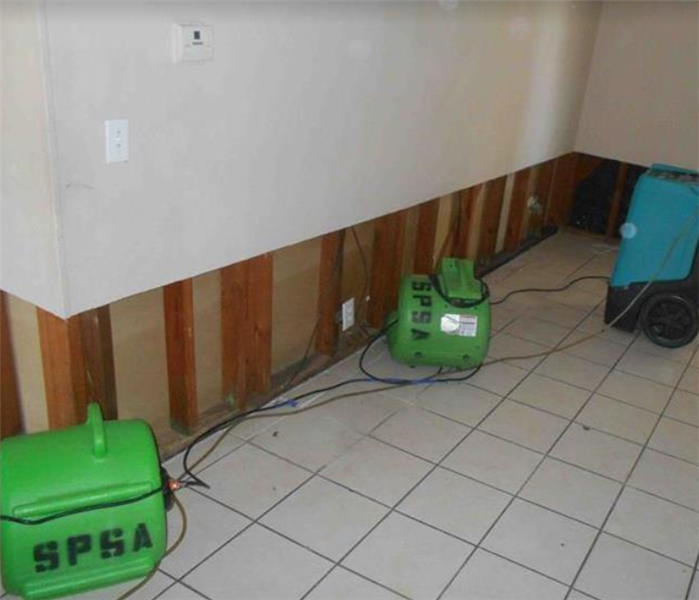 We made flood cuts to help dry this room. Once completely dry, we restored the room to its preloss condition.
Flood Damage in Santa Ana: Should I Stay, or Should I Go?
Life in Santa Ana means being vigilant of Mother Nature. As homeowners, we are increasingly mindful of weather conditions and how they might affect our daily lives. Fire, flooding, and devastating winds can all be present in our region, and being prepared is crucial. Professional restoration services in Santa Ana are readily available. Knowing whom to call in case of emergency is the frontline defense for property owners.
Imagine for a minute that there is flood damage to your Santa Ana home. With little or no warning, floodwaters have made their way through your doors and leaving you with a visible reminder of the occasion. Aside from the visible debris, you may not be able to see the contaminants hiding in the water. Luckily, SERVPRO water restoration technicians (WRT) train to address situations like yours, tackling tangible and intangible threats to your home and family.
One of the necessary steps in addressing flood damage is deciding whether to move out of your home or not. Our SERVPRO team can help frame that decision by providing alternative strategies focused on mitigating the time and money you spend as a result of the flooding. For example, our team may recommend a partial move-out if there is an area of your home where we can safely store your belongings. Ideally, we would lessen the number of times your things are handled by cleaning them before storing them in another area. However, if this delays water extraction or drying efforts, we may move all items and conduct the cleanup in the satellite spot. When floodwaters permeate porous materials such as upholstery, very often we dispose of them for your safety. This removal can also be done at this stage to facilitate the ultimate goal- drying and disinfecting your home.
Flood damage can be overwhelming, but our SERVPRO of Santa Ana South staff is here to help. Our training and expertise come to your rescue by breaking down each of the steps necessary to restore your home. Trust us by calling (714) 558-7772 and allowing us to leave your home, "Like it never even happened."
More about Santa Ana.