How Can You Choose the Right Team for Commercial Fire Damage Cleanup?
3/8/2021 (Permalink)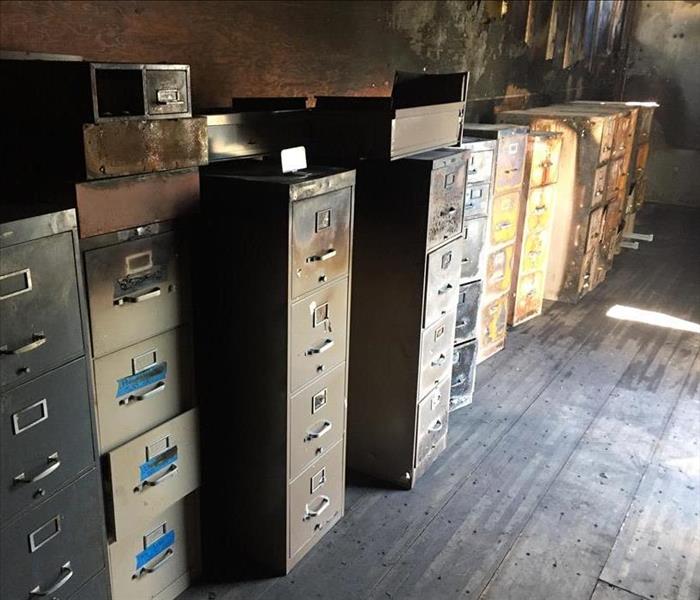 SERVPRO packs-out to our warehouse for fire damage cleanup of file cabinets and more for our Santa Ana client
SERVPRO helps Santa Ana business owners to get back on track after fire damage – Call us first for restoration!
The second most populated city within Orange County, Santa Ana, contained 329,427 people when the 2011 United States Census was taken. This also made it number 57 in terms of the population nationwide.
Situated adjacent to the beautiful Santa Ana River, this city features stunning architecture along with breathtaking backdrops. Santa Ana also shares a name with the nearby Santa Ana Mountains and the Santa Ana Freeway that runs through the city. You may even know this name for the Santa Ana Winds, which are notorious for fueling a lot of the historical wildfires each season that rage through Southern California.
Exploring a Few of the Popular Santa Ana Neighborhoods
There are several notable neighborhoods throughout Santa Ana, each with a bit of a different vibe to them. Throughout the year, you can also find a range of neighborhood activities and events, including garden shows, art walks, concerts, and home tours. Some of the top neighborhoods to check out include:
Floral Park – Within this neighborhood, you can find over 600 vintage homes ranging in build-dates from the 1920s throughout the 1950s.
Santa Ana Triangle – This neighborhood is known for quaint homes, friendly neighbors, and easy access to local restaurants and shopping establishments.
Park Santiago – A visit to this neighborhood can bring you activities like outdoor yoga, various neighbors-helping-neighbors beautification projects, local music concerts, and more.
Wilshire Square – People living within this neighborhood take great pride in their gardens and keep impeccably landscaped yards. The first home in this neighborhood got built back in 1915, and typical construction styles include California Bungalow, Spanish Colonial, and Tudor Revival.
What is There to Do in Santa Ana, California?
Along with neighborhood walks and local events, you will find a broad selection of incredible eateries, breweries, and wineries. There are also many attractions that you can experience to enjoy a bit of fun for the whole family. Some of the best sites and attractions located within the Santa Ana region include:
Bowers Museum
Lyon Air Museum
Kellogg House
Santa Ana Zoo at Prentice Park
Santa Ana Artists Village
Santa Ana Scavenger Hunt and Downtown Tours
Santa Ana Commercial Property Owners Should Know Best Practices for Preventing Fire Damage
Any business hit with fire damage could be in for a tremendous loss. Once you have a fire in your retail space, warehouse, or restaurant, you need to act fast. SERVPRO offers a 24/7 emergency response to get the fire damage cleanup and restoration underway.
However, it is better to think of ways that you can prevent fire damage in Santa Ana within your commercial space. Four things that you can do now include:
Regular testing of all your fire extinguishers, smoke alarms, and sprinkler system.
Perform inspections of all devices, electronics, cords, machinery, and electrical outlets.
Always make sure that your staff has fire emergency protocols in place.
Have our number handy so that the SERVPRO crew can get deployed to your business as soon as possible.
ERP Emergency READY Profile Plan--proactive prevention and mitigation--ask us how!
Sometimes, commercial fire damage is unavoidable, but it is how you react that counts. Call SERVPRO of Santa Ana South/SERVPRO of Santa Ana North at (714) 558-7772 when you need a rapid response.