Need Help with Debris and Flood Removal in Santa Ana – Call SERVPRO
10/13/2021 (Permalink)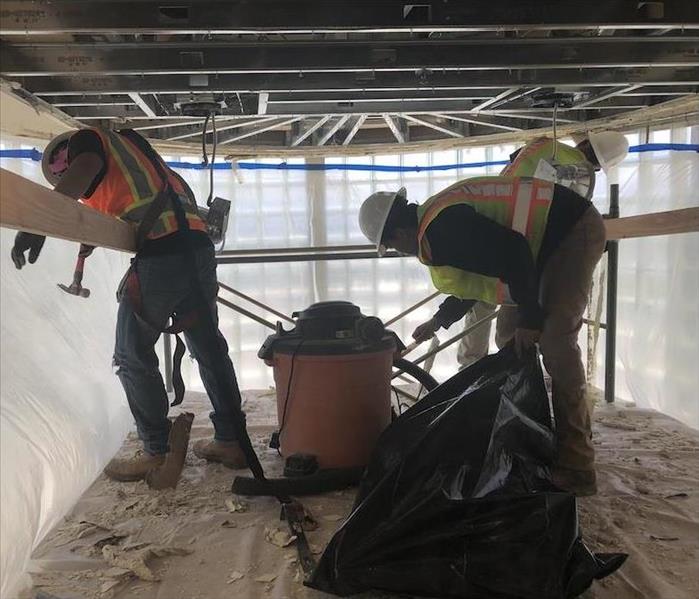 When a storm and flood strike your home, don't fret. SERVPRO storm and flood damage restoration techs are ready at a moment's notice.
SERVPRO Provides Emergency Flood Removal and Cleanup in Santa Ana
Storms can bring debris and floodwaters raging through your Santa Ana home and spare the one next door. A house may be covered in mud, garbage, and water containing chemicals, bacteria, viruses, and even biological material, while the next home is unharmed. There is no explanation for these random events; however, when these events occur, it is best to call in the experts who have the experience, the equipment, and the trained technicians to manage floodwater and debris removal.
SERVPRO's team of qualified experts can help with flood removal, debris removal, and decontamination of your Santa Ana home or business. The first step is to ensure the safety of our customers and our employees. Floodwaters are contaminated with chemicals, biological and more. We utilize specialized equipment and personal protective gear while cleaning and sanitizing all areas of your home.
Your contents can be cleaned, sanitized, processed, and stored in a staging area until your residence is fully restored. All non-porous structural materials are also cleaned, sanitized, and restored. We may have to replace some materials that have absorbed water etc. We safely remove these materials following proper disposal procedures.
Once your home is ready, our restoration and reconstruction crews can begin work restoring your home, "Like it never even happened."
Our services include:
We're Faster To Any Size Disaster (Less than four hours from your initial call)
Controlled demolition and reconstruction of contaminated structures
We hold cleaned, and sanitized materials in a secure, clean staging area
Floodwater removal, cleaning, sanitization, and restoration
Call SERVPRO of Santa Ana South / SERVPRO of Santa Ana North for flood removal in Santa Ana and surrounding areas. We can help 24/7. Call (714) 558-7772.