Why Contacting SERVPRO is Always a Great Idea for Commercial Water Damage in Santa Ana
11/24/2021 (Permalink)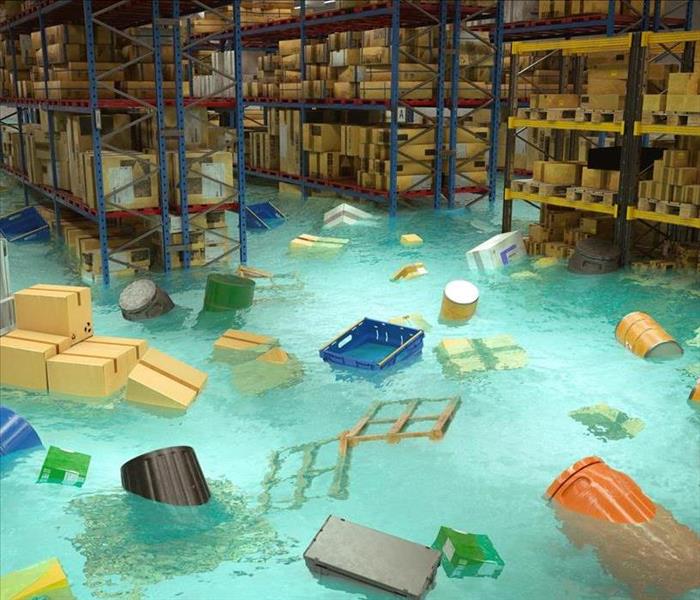 When your commercial property in Santa Ana is underwater, call SERVPRO for extraction--we can get you dry
Elaborate Steps Help During Commercial Water Removal from a Santa Ana Warehouse
A smoldering fire in a Santa Ana warehouse triggered the fire suppression sprinklers spreading water all over the premises. Although it helped stop the fire immediately, the action was overkill since the system released too much water. When our SERVPRO team arrived at the site, we realized it would take several steps to remove the water, restoring normalcy.
Pumping out the water
Water removal from the Santa Ana warehouse was more complicated than expected. The large flat surface concealed the amount of water spilled since the standing water did not form deep pools. Our SERVPRO crew had prepared for such an eventuality by bringing several water extraction units to the damaged site. The truck-mounted extractors provided sufficient lift capacity to handle the wet-vacuuming process needed to extract all the surface water from the premises.
Disposing of the water
Although the water that spilled was from a clean supply line, it was exposed to different materials and chemicals within the warehouse. Disposing of such water in the open or through flood drains would have posed some contamination risks. Our SERVPRO technicians are trained on the best ways to dispose of water, including evacuating it to a wastewater treatment facility. At the warehouse, we found a treated sewer line, which served the purpose effectively.
Drying moisture
Removing moisture from materials and the air in a vast space like a warehouse takes the right skills and enough drying resources. We brought a trailered desiccant dehumidifier to handle the drying process. We also set up a DX, Direct Expansion Unit, to pre-cool the air entering the desiccant dehumidifier, improving the efficiency of the drying process further. We also had to monitor the process to ensure we attained optimum moisture levels. Desiccant dehumidifiers can lower humidity levels below standard, leading to damages in materials such as wood, which can crack when too dry.
Water removal takes elaborate steps to achieve the intended goal. Call SERVPRO of Santa Ana South| SERVPRO of Santa Ana North at (714) 558-7772 to help with removal at your property. We're Faster To Any Size Disaster.