SERVPRO Facilitates the Assessment of Flood Damage in Santa Ana
8/10/2022 (Permalink)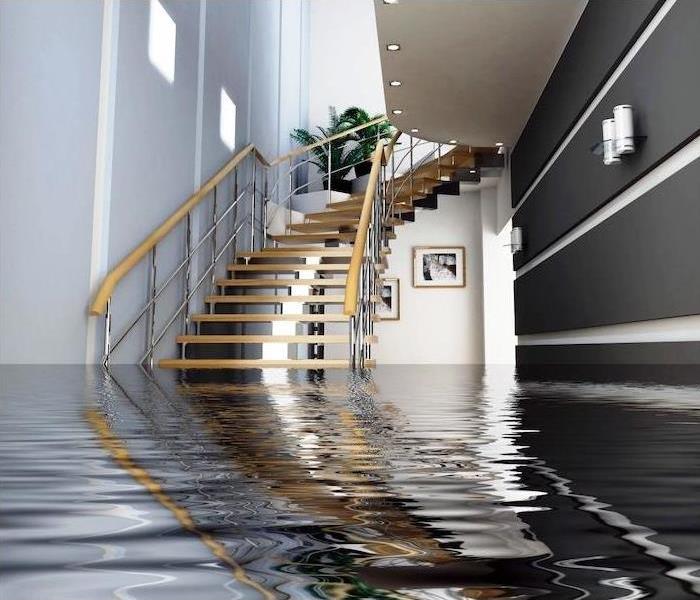 Don't let flood damage take over your property, Call SERVPRO of Santa Ana South / SERVPRO of Santa Ana North at (714) 558-7772.
Factors Influencing Santa Ana Flood Mitigation Methods
When flooding occurs, homeowners must overcome various obstacles to return to the usual safe and normal living space. You may have to deal with unsanitary conditions, costly property repairs, and a lengthy cleanup process. Whether dealing with a minor or significant flood event, you should ensure it is safe to return to your Santa Ana home as floods can occur repeatedly.
When planning a flood damage cleanup in Santa Ana homes, it is crucial to consider the water source and potential hazards. Water harms building components, and some materials may contain hazardous substances such as asbestos or lead-based paint. SERVPRO evaluates the affected area before disturbing or removing the damaged materials.
Floodwaters pose hazards such as:
Structural hazards
Electrical hazards
Slip, trip, and fall hazards
Some cleanup procedures and damages may create trip, slip, and fall hazards. Also, hoses and power cables may tangle during the cleaning and drying. We post warning signs to alert other workers and occupants and tape down or gather cords with a Velcro belt or a zip tie. Materials such as drywall may weaken after moisture absorption, creating a hazard for everyone.
Factors influencing flood damage:
Flow velocity
The duration
Sediment concentration
Quality of external response
To properly restore structure and contents after a flood incident in your home, you ought to know how moisture affects different materials. Exposure time and permeability are the two significant factors that determine the level of damage in materials. SERVPRO understands that time is an essential consideration for restoration.
Moisture On Flooring
Floors usually take a beating during a flood. Wooden floors, when exposed to excess moisture, expand. Expanded boards tend to push against each other, buckling at the joint depending on the type of wood and the amount of water absorbed. The panels may also warp. The warping and buckling could be long-term once the wood dries, thus needing replacement.
SERVPRO of Santa Ana South / SERVPRO of Santa Ana North provides thorough and complete flood damage cleanup, giving you peace of mind when you return home. Call us at (714) 558-7772. We're Faster To Any Size Disaster.