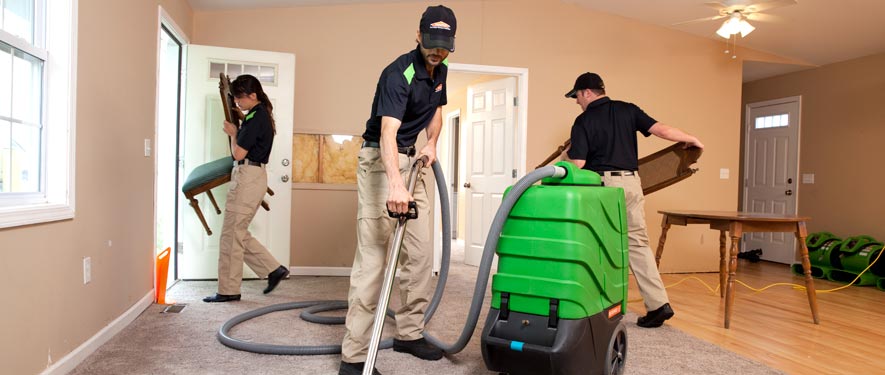 Residential Cleaning Services
Cleaning plays a vital role in the restoration work that we do for so many homes and businesses throughout the Los Angeles metropolitan area. With state-of-the-art equipment, tools, and cleaning products, we can address multiple damaging consequences after an emergency or disaster takes place. Additionally, these same practices can play a vital role in our content management and pack-out procedures during an emergency. We can prevent content damage by moving items to our off-site facility for storage and cleaning.
Many homeowners have a difficult time keeping up with the needs of their home, which can often exceed the effectiveness of practices like vacuuming and basic cleanup. With advanced carpet cleaning solutions, odor removal equipment, and OSHA-approved cleaning products and agents, we can help any property to look its best. No matter where you call home, from Costa Mesa to downtown Santa Ana, you can count on our SERVPRO cleaning technicians to help with whatever your residence needs.
Need Cleaning Services?
Call Us Today – (714) 558-7772
Residential Cleaning Services include:
The SERVPRO carpet and upholstery cleaning service will not only get out the dirt you see, but will also remove the unwanted dust you don't. A professionally cleaned carpet and furniture may make all the difference in brightening up a room and freshening up your home.
We all have tasks around the house that don't make it to the top of our priority list. Properly maintaining your home's air ducts should not be one of them. Regular duct cleaning can increase your home's heating and cooling efficiency and improve the quality of the air you and your family breathe.
Your basic cleaning service is not going to have the expertise to effectively deodorize your home. Take advantage of SERVPRO's residential cleaning services to remove unwanted odors.
Our experts are ready to assist in the clean up of sewage and other biohazard materials and provide deep cleaning services for your home. Find out more about our franchise professionals.